Customer: Fitness First Industry: Gyms
port-neo services: Customer needs and profiles, communication strategy, campaign development, content marketing, omnichannel marketing, experience design, content creation, journey orchestration, journey analytics, organisational development.
Das Unternehmen Fitness First
"Wir motivieren Menschen"
Die LifeFit Group Service GmbH gehört mit den Marken Fitness First, smile X, Elbgym, Barry's Bootcamp, The Gym Society, Pure Pare und Club Pilates sowie mit mehr als 1,4 Millionen Mitgliedern und mehr als 500 Clubs weltweit zu den größten Betreibern von Fitnessstudios. Dabei steht Fitness First als langjährige und erfolgreiche Marke im Zentrum der Gruppe. In Deutschland sorgen ca. 1.250 Mitarbeiter:innen in 52 Studios dafür, die rund 150.000 Mitglieder für Gesundheit, Fitness und das eigene Wohlbefinden zu begeistern und auf ihrem Weg zu begleiten. (Stand 01/2022)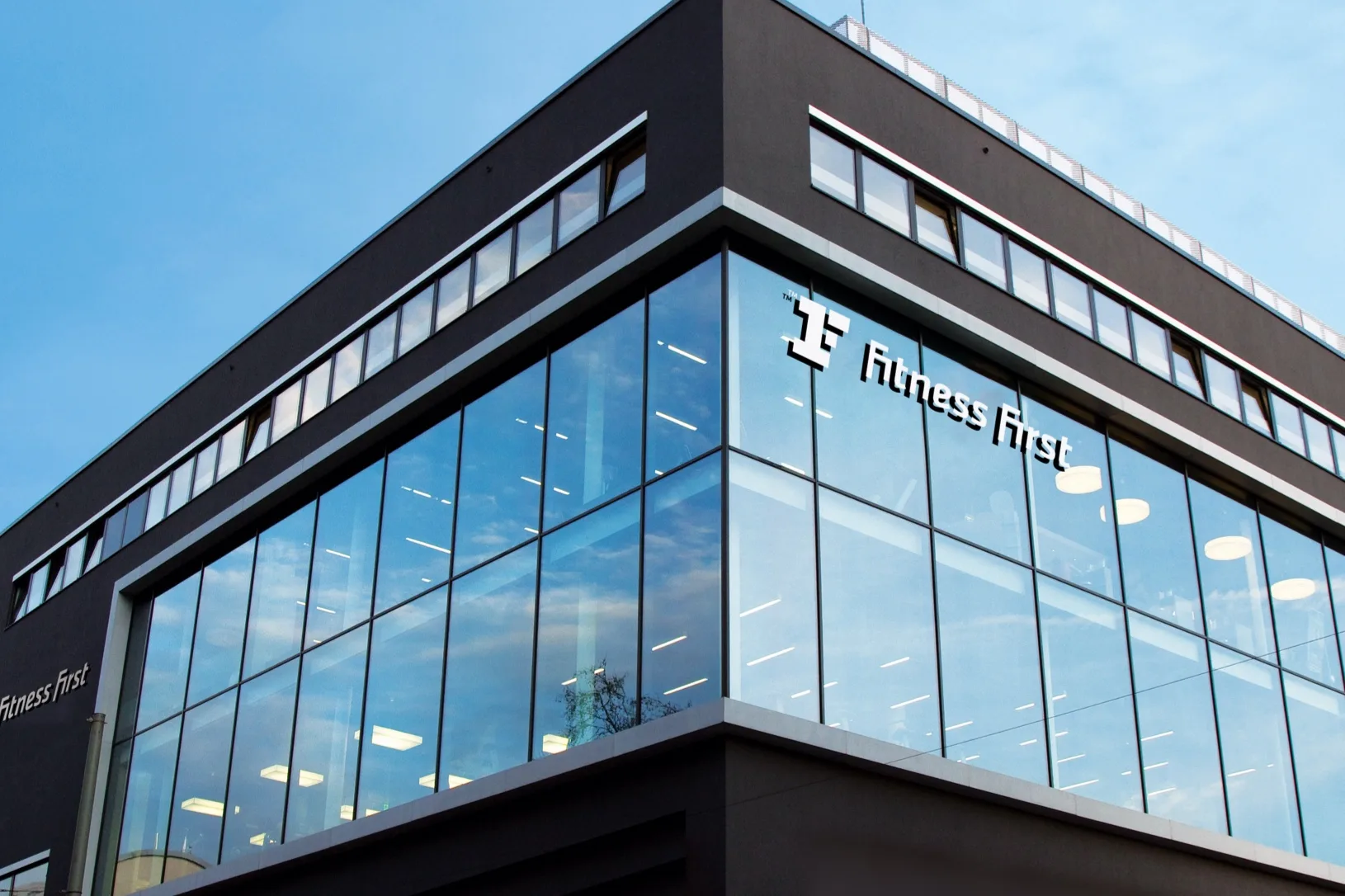 Digitalisation is already firmly embedded in many sectors and, most importantly, experienced by customers. This fuels the expectations of gym members, who want their favourite industry to keep up with the digital era.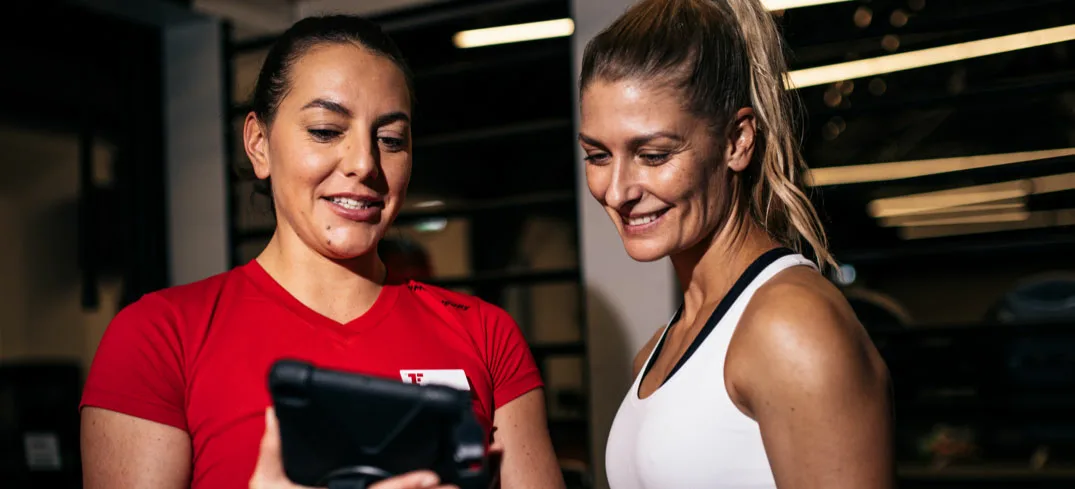 Gyms no longer offer refuge from the digital world. People have smartphones, their lives are becoming increasingly digital. Even home appliances are smart nowadays. However, working out hasn't just changed in terms of how it's organised and offered. The fundamental approach and perspectives have also transformed. Combining topics such as nutrition, wellness, meditation and mental health plays a major role for health-conscious people. In other words, the health and fitness experience requires a holistic approach.
A holistic approach to the fitness experience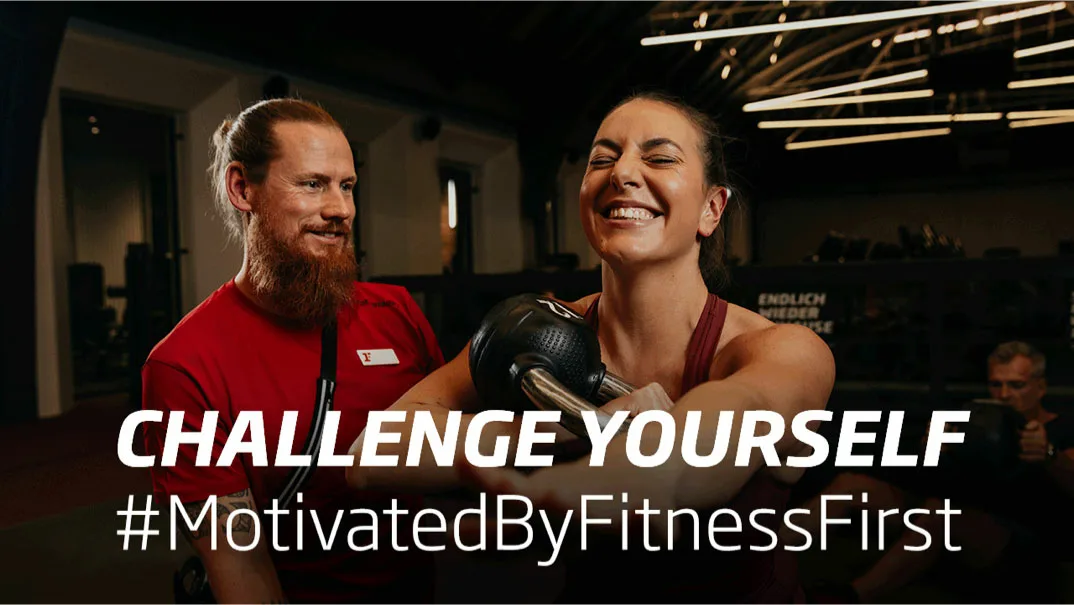 The primary goal of our partnership with Fitness First is to cement the following notion in the minds of members: Regardless of what happens, who you are and what you want to achieve – at Fitness First, you're in good hands. In line with this mantra, our software and communication experts at mission-one (part of the port-neo Group) automated email sequences to address members at every stage of training. The membership starts with an 8-stage welcome track, which guarantees members the optimal experience after registering at Fitness First. Not only does this make gym induction child's play, it also ensures new members receive optimal digital support at the start of their fitness journey.
After the initial stage, members receive other milestone emails triggered by completed workouts at the club that boost motiviation with personalised content. Individual workouts are also followed by surveys to facilitate ongoing experience reviews via an NPS, allowing Fitness First to continually analyse member satisfaction.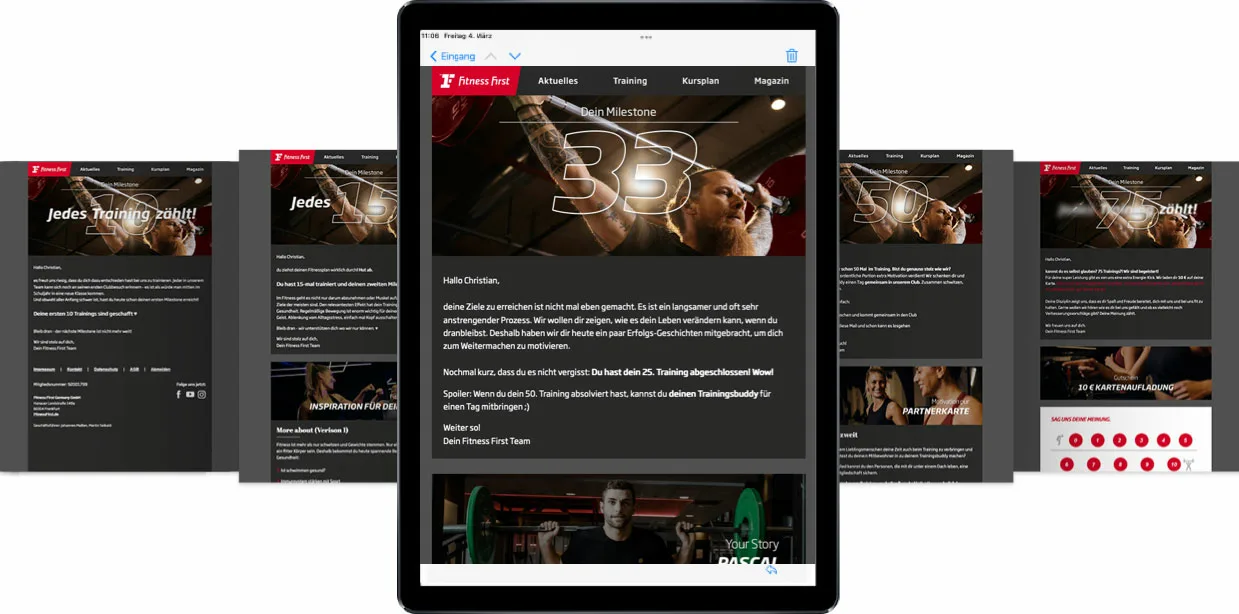 Members are kept in the loop with automated email newsletters sent at each stage on their training journey.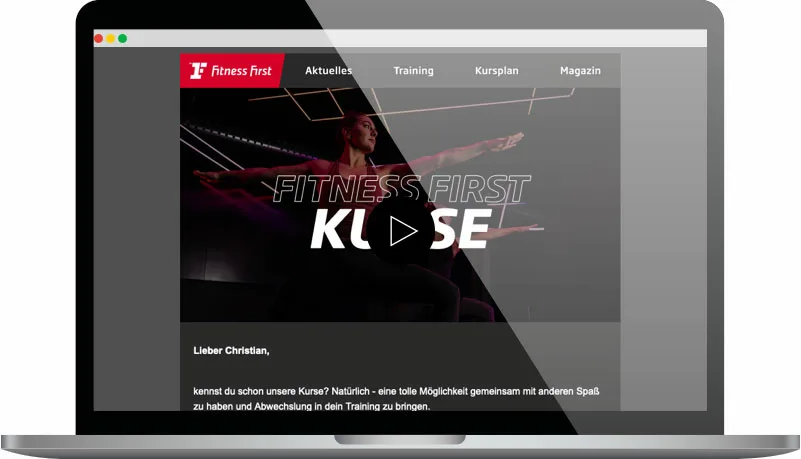 Special campaigns also help shake up their daily workout routine, including the Fitness First advent calendar and the digital Les Mills event. The latter was a joint online event hosted by Les Mills and Fitness First that Fitness First members could register for via a landing page and select two of the five available courses.
A section for contract management has also made life easier for members. From signing contracts, payment reminders and cancelling memberships to taking a break (Fitness First, smilex and Elbgym) or invoices for personal trainers: Members now receive all information and documents quickly and easily by email. Providing maximum transparency and trust as an added bonus.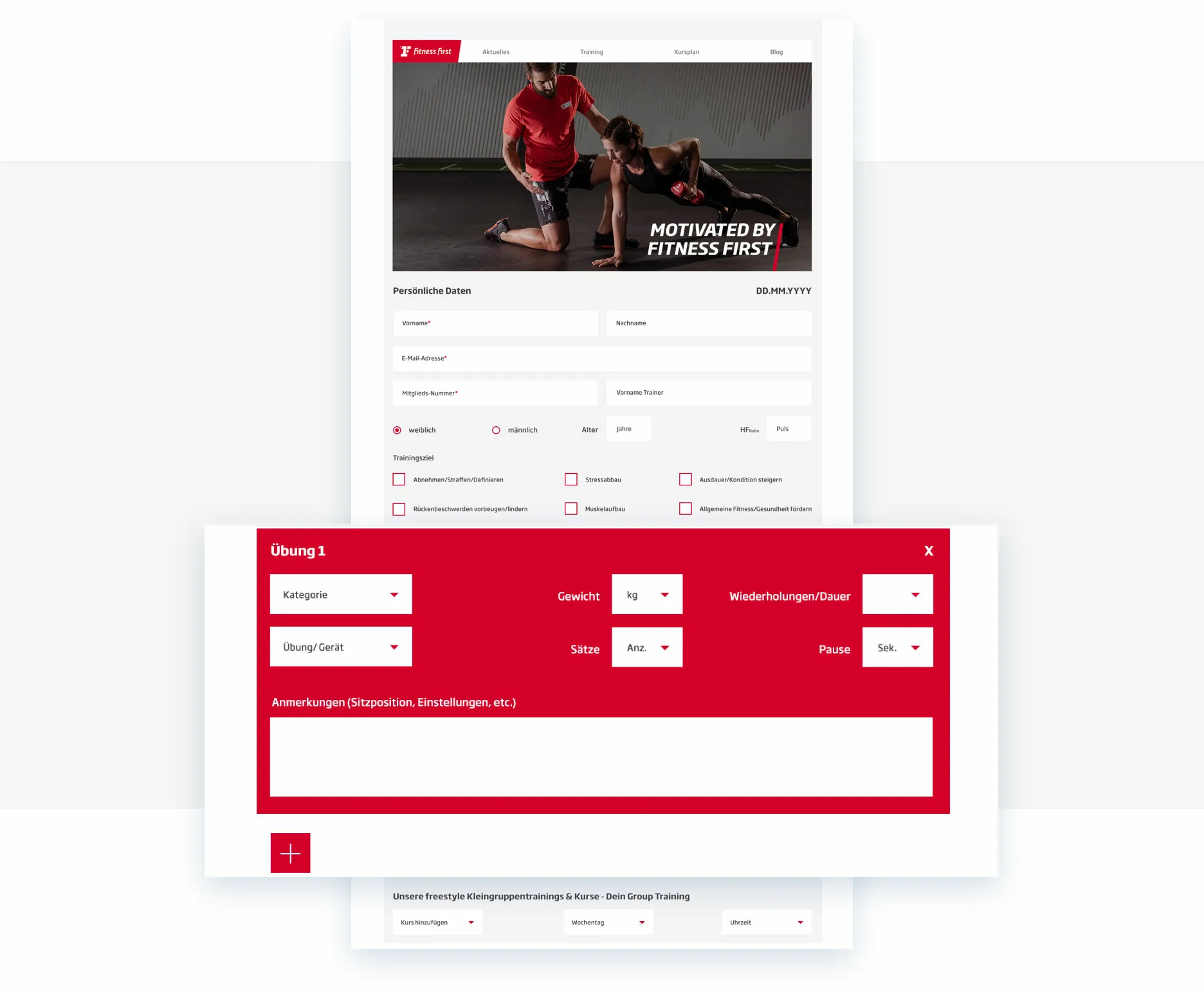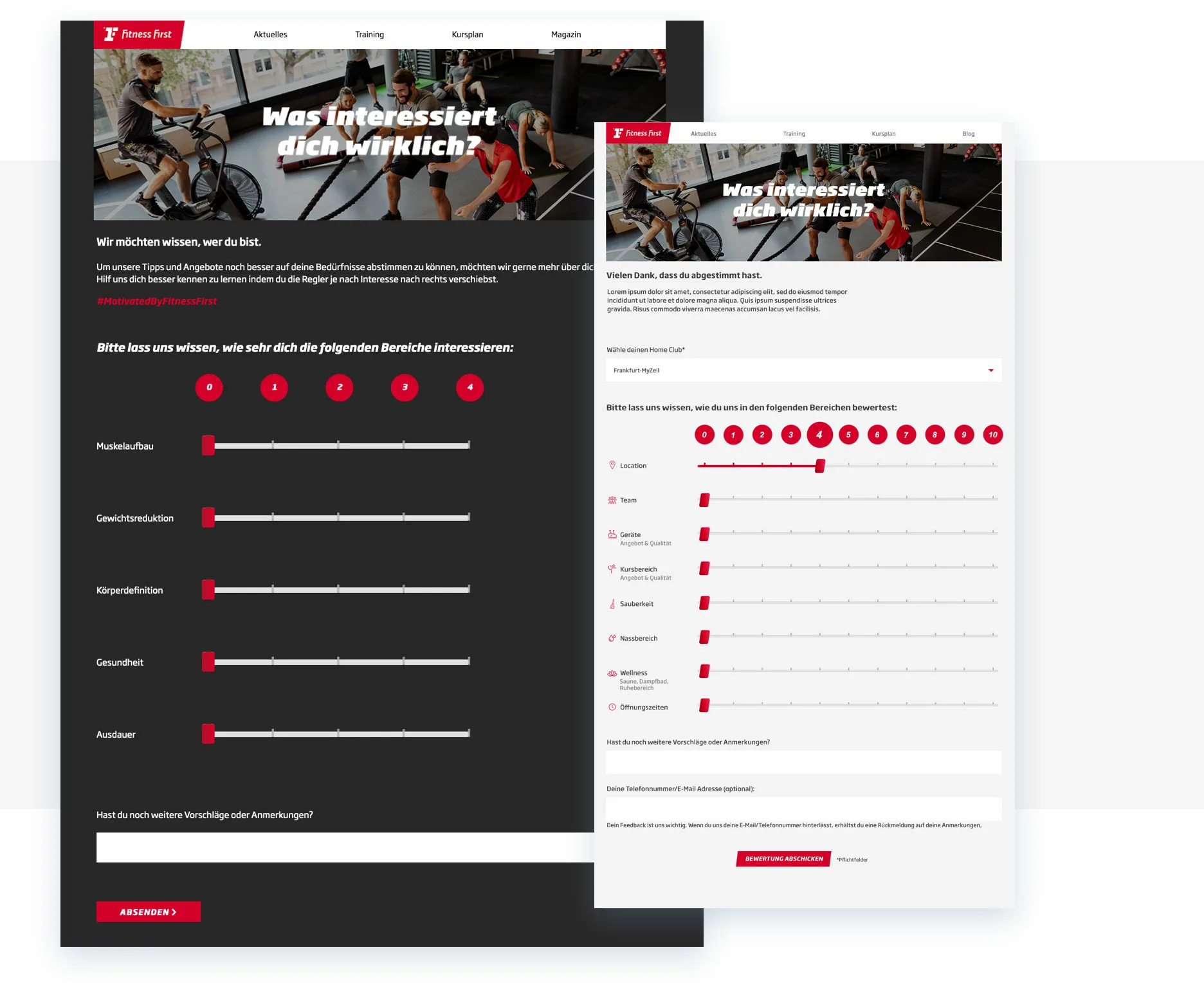 Hand-written training schedules and notes are now a remnant of the past at Fitness First. Trainers can now easily view information, targets, workouts and respective results or progress for each member in an instant on a tablet thanks to a specially developed front end. Members automatically receive an email with an overview of their completed workout and services. The app also automatically loads the course schedule for each member's local club. This requires the app to retrieve and display information on the particular club via the API. To provide a more detailed overview, the course plan has also been created as a module, allowing it to be integrated into Fitness First newsletters.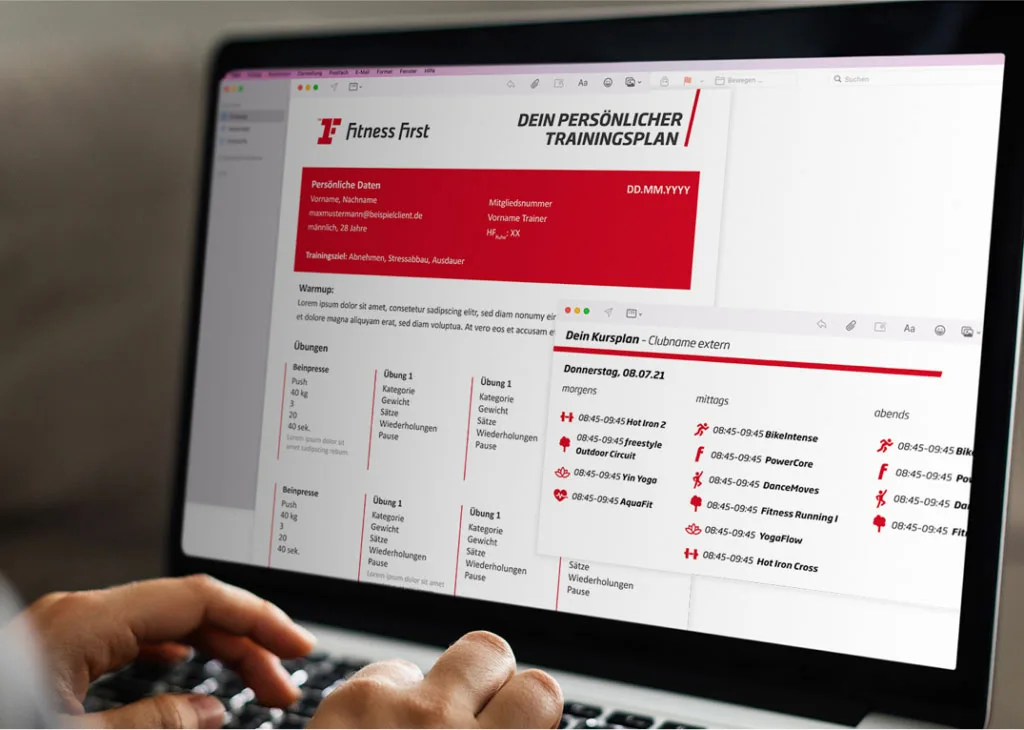 To provide a more detailed overview, the course plan has also been created as a module, allowing it to be integrated into Fitness First newsletters. Source: Mockup created by rawpixel.com
Like many others, the key to success for Fitness First lies in the targeted use of customer data. Above all, successful ad campaigns and personal customer approaches need to be tailored to their target market. This requires collecting, storing and analysing customer data to identify patterns and trends for the future customer experience and ultimately successful CRM. We use a scoring engine to calculate the data consisting of internal data stored by mission-one (part of the port-neo Group) and external data imported from the DWH. Fitness First Database
Keeping up with the digital transformation
itness First recognised at the right time that the fitness industry is in the midst of a revolution and the company, in partnership with mission-one (part of the port-neo group) as its own digitalisation accelerator, needs to push ahead with technological advances and explore new potentials and opportunities. All actions by Marketing, Sales and Services to make the customer experience as positive as possible need to be viewed and implemented from a holistic standpoint. In other words, the digital tools that can help Fitness First achieve its objectives are only as good as the strategy behind them. Companies that embrace data-driven and automated processes need to also make sure their employees are brought on board and personalised experiences are offered to customers. Adopting a flexible and open mindset to moving away from outdated processes can lead to major progress in the long term. User-friendly solutions help reduce the number of errors and lower costs. In addition, Fitness First can make its training experience and support even more customer-oriented. Danke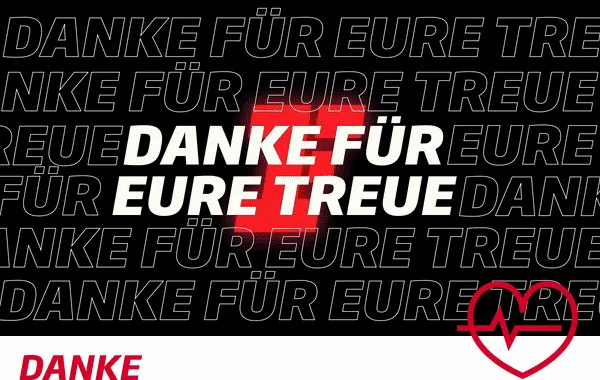 Interested in learning more about our cases?
Leadprozesse simply digital