Customer: GRENKE Industry: Financial services provider
port-neo services: Analysis of customer requirements and profile, data and technology strategy, communication strategy, brand strategy and corporate design, campaign development, experience design and content creation, content marketing, website business, development, marketing automation, journey orchestration and analytics, experience platforms, infrastructure support, journey & ROX analytics, trainings
Comprehensive customer experience from communication to infrastructure
The same motivation, the same needs, the same medium-sized origins – GRENKE shares plenty with its customers and partners as well as retailers and agents. However, the way it is perceived from the outside no longer fits the company's DNA: the brand wants to present modernity, advice at eye level and growth. A relaunch of the brand, its product portfolio and entire communication is needed.
port-neo supports this with a comprehensive CX strategy that puts the focus on end customers and partners. Not only punctually, but across all advertising media and borders. The heart of the transformation: the company website. It gives partners a good overview of the products and is a solid basis for lead generation.
GRENKE: begeisterter Unternehmer und Möglichmacher
GRENKE. Noch nie gehört? Da ist es jetzt höchste Zeit. Unter dem Motto "Fast. Forward. Finance." ermöglicht der MDAX-notierte Finanzdienstleister in 32 Ländern weltweit, Pläne in die Tat umzusetzen. Als Partner bietet GRENKE individuelle Lösungen aus Leasing, Factoring und Banking für den Mittelstand.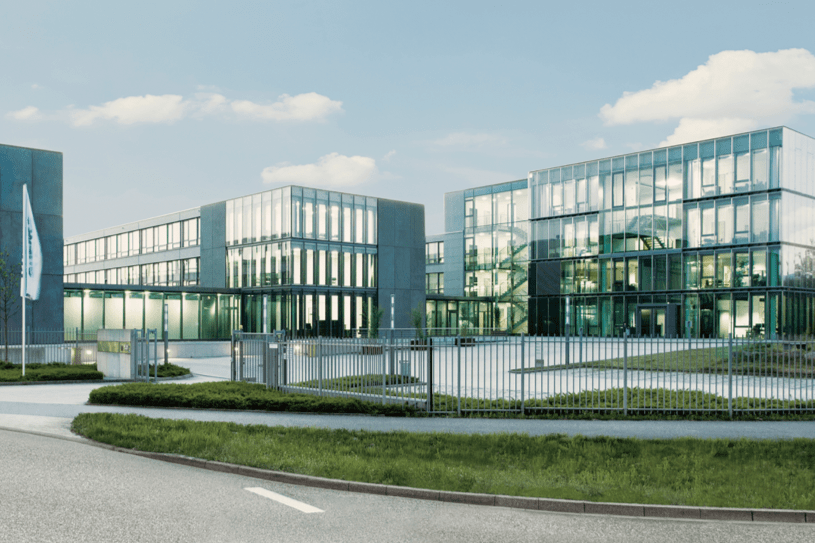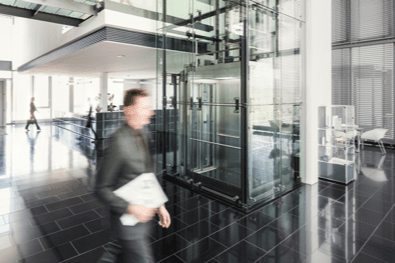 Defending market position through customer focus
The market is growing rapidly and the competition is fierce: start-ups set the tone, particularly when it comes to digital services. Long-established organisational structures and infrastructure require rethinking. What can we do to offer our customers the best possible experience? How must communication and infrastructure change to keep the customer at the heart of everything we do? GRENKE has set itself the challenge of intuitively helping end customers and partners reach their goal by taking different paths on their new website.
What does customer focus mean for a website and infrastructure?
The heart of the CX strategy involves relaunching the website so that is tailored to individual target group requirements. Our approach: best of breed (we combine old and new systems to ensure marketing goals are reached). The website acts as digital sales support by implementing lead generation tools.
The CX platform Bloomreach enables a high degree of personalisation. And above all: The BrandMaster marketing resource management tool, which is connected via the interface, ensures the consistency of the marketing assets worldwide.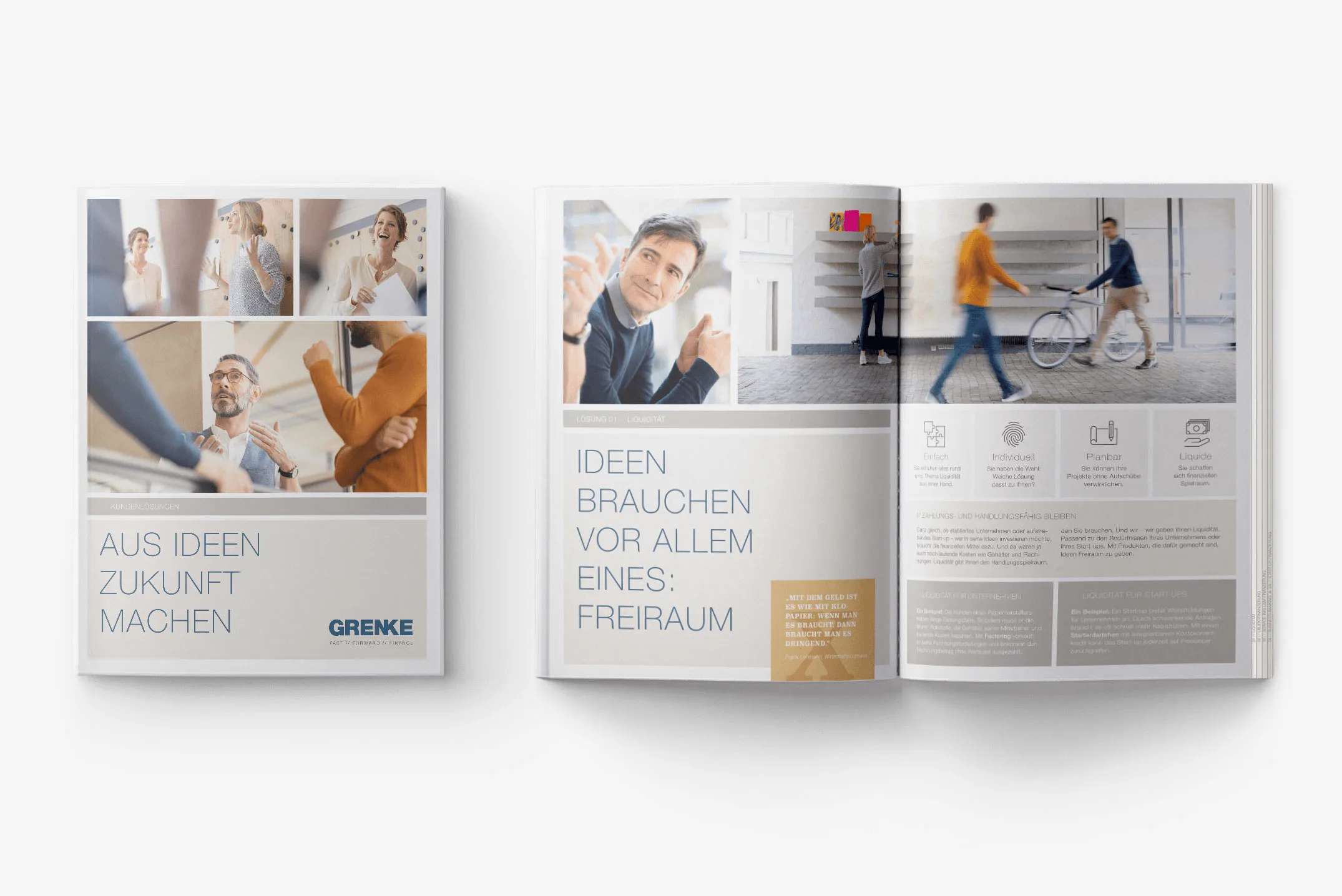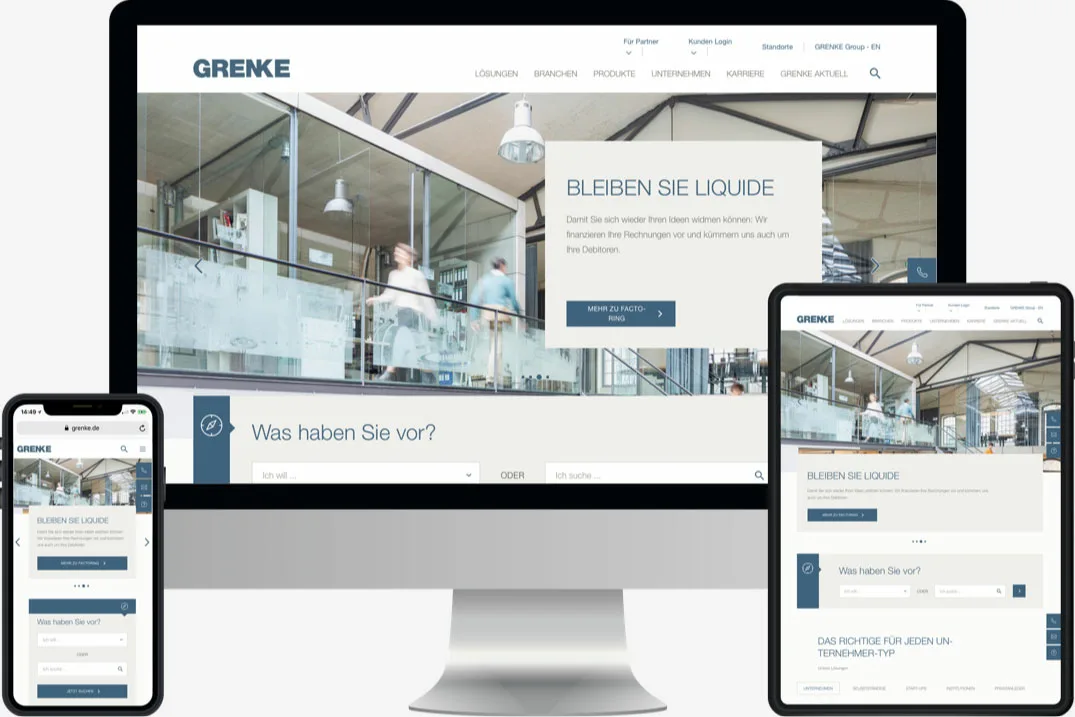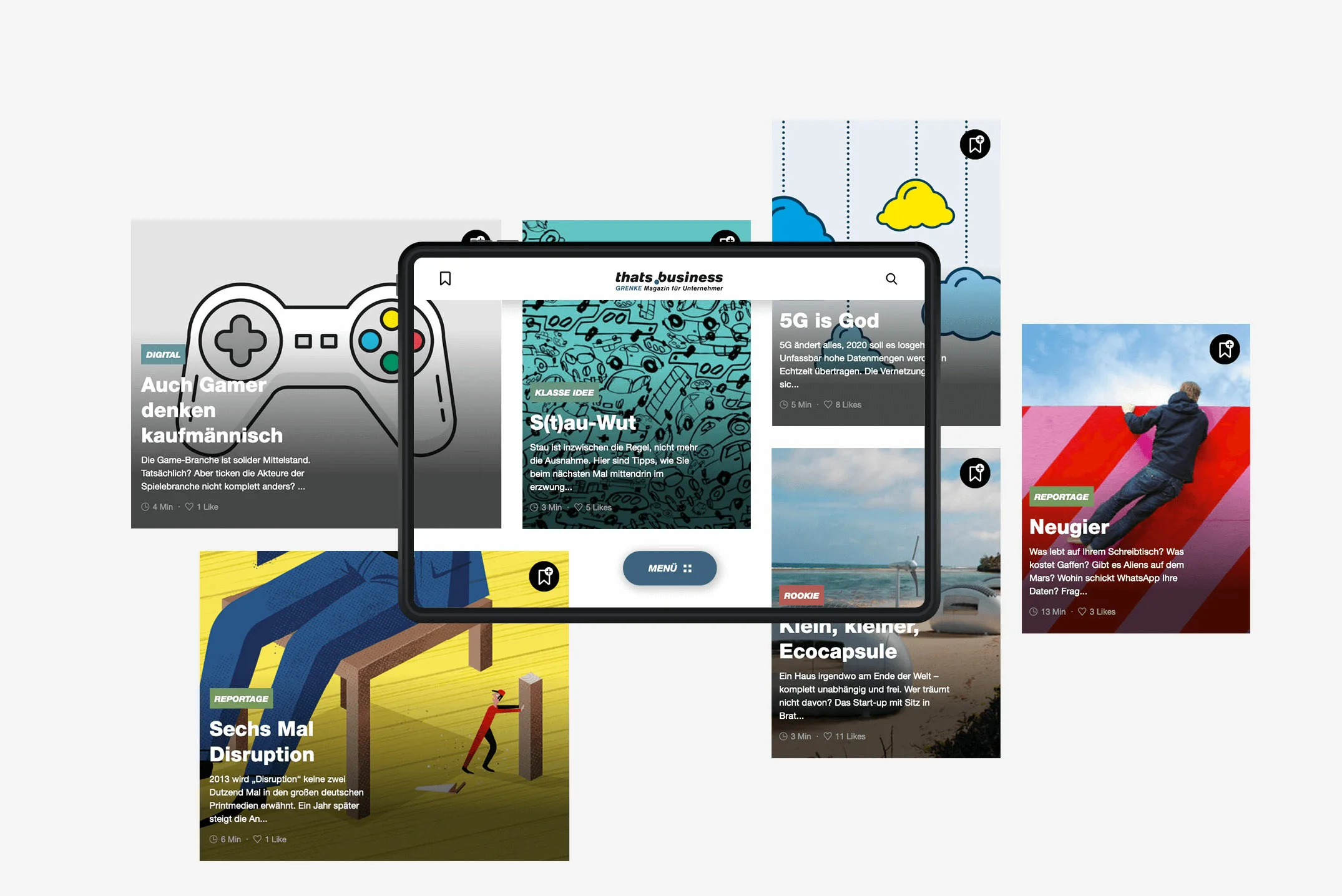 13 workshops with international key stakeholders

Global rollout in 33 countries with different product portfolios
110 sub-sites were developed for digital representation in Germany alone
Acquiring customers through customer focus
Increased SEO traffic by 183%
29% more interaction on smartphones
"The digital presence and entire GRENKE infrastructure have been significantly developed since working with port-neo. Topics such as lead generation and tracking are now a fixed part of our marketing agenda. For me, port-neo is a partner that we can rely on."
Vice President Global Marketing & Customer Experience
GRENKE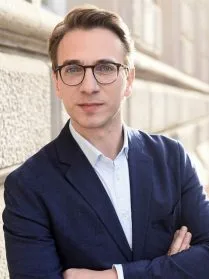 Interested in learning more about our cases?
For a comprehensive customer experience
As a CX agency, we understand what makes a customer experience unique. Strategists, creative minds, data specialists and technical experts work hand-in-hand across five steps. This comprehensive approach has enabled us to lead GRENKE to success. Find out here in more detail how it works.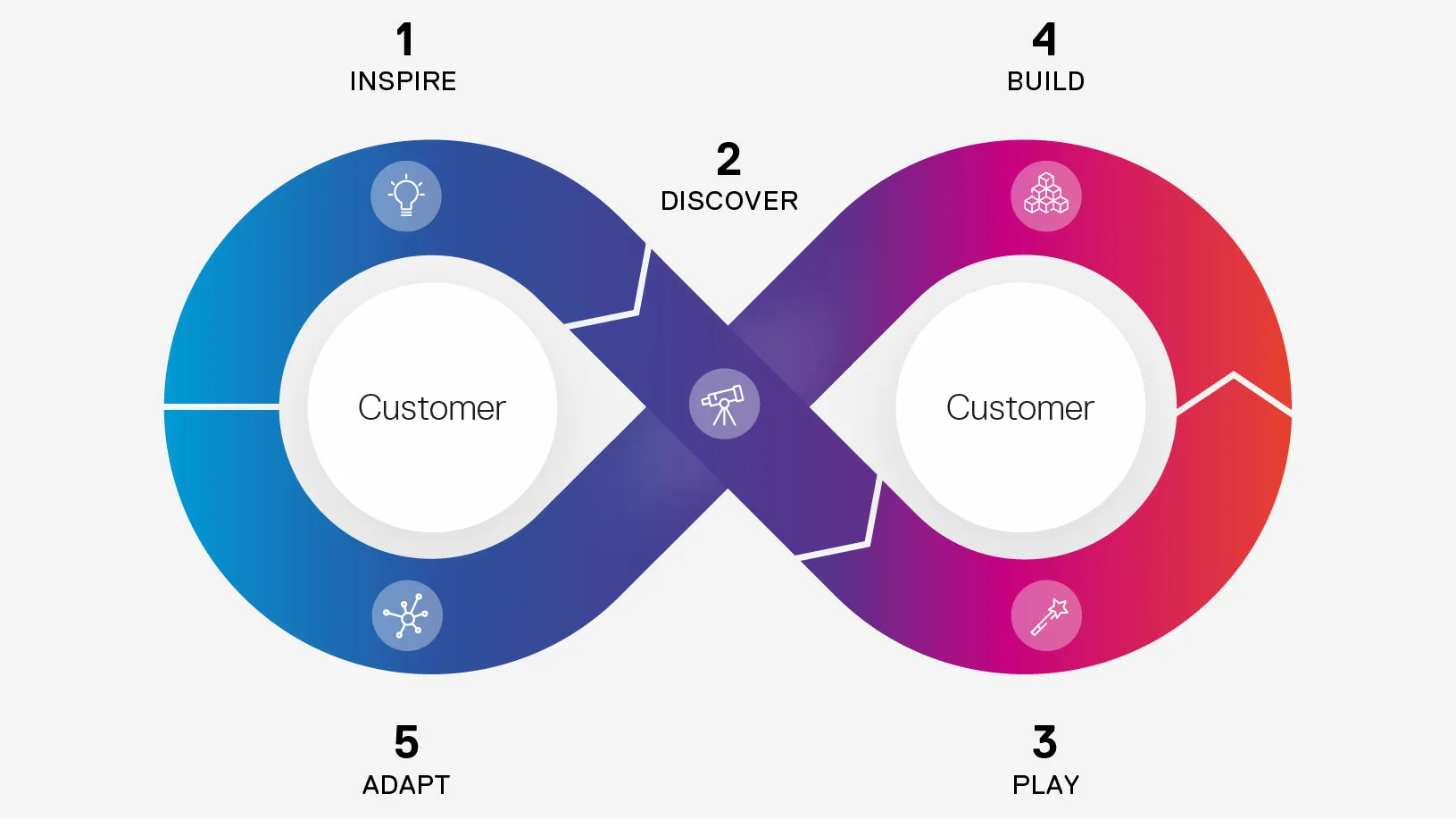 We can only recreate ourselves together
To achieve real customer focus, it's important to ask the right questions from the start: Where is the customer? What are their needs? How can we reach them? Together with GRENKE, we look for the heart of the company in numerous workshops. We are inspired by best practices and enter into dialogue with key stakeholders. Together, we take an important step towards the right CX.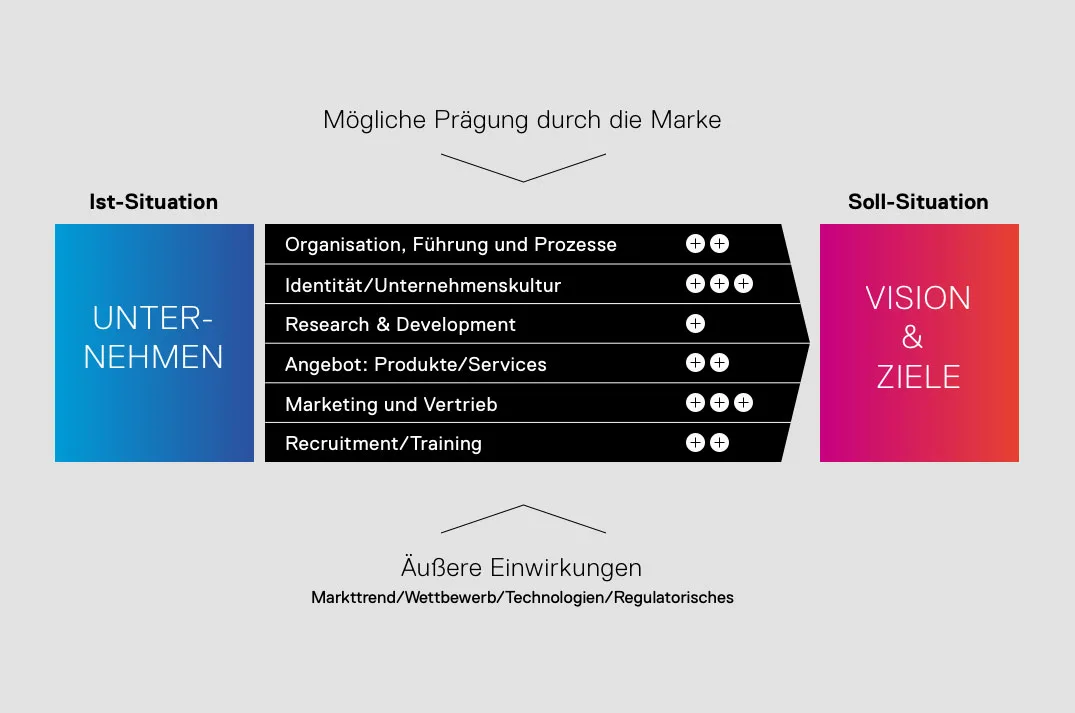 Our joint road towards the goal is defined by analysing the gap between the current and target situation.
Once the goal is set, the path towards it is established. As with all work steps, target group needs are a deciding factor here too. Together with the team at GRENKE, port-neo develops plans to acquire and manage content. Empowers all employees with tailored training. And produces qualitative and quantitative analyses of target group journeys for the website. Regardless of whether it's an entrepreneur, start-up, private investor or partner, we understand the target groups and align ourselves accordingly.
From image concepts, corporate design and corporate working, we rediscover the look and feel of GRENKE together with the financial services provider. Users play a key role when creating website content: rapid user tests check the measures adopted by port-neo. Content and modules are approved or revised, depending on their performance. The complex infrastructure is expanded and consolidated behind the scenes. With Bloomreach, an Experience Manager is used as a Java CMS. The Bloomreach Experience Manager (brXM) is an open and flexible CMS that was designed for developers and marketing experts. As a Headless CMS, brXM enables developers to quickly create and integrate it into the eloqua, BrandMaster and Microsoft Dynamics systems as a CRM. Although it is designed for speed, first-class personalisation and channel management features allow marketing experts to improve results.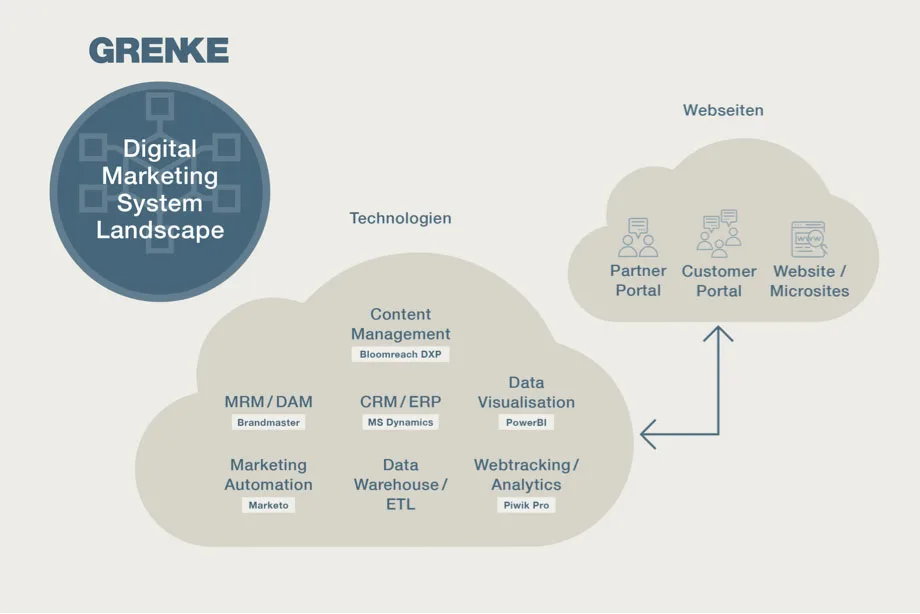 Developing the technical infrastructure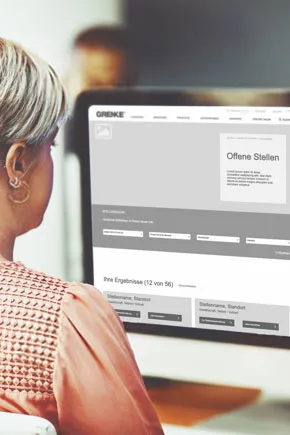 Concept, wireframing and user testing of the versatile modules
Turning an idea into brand identity
The next stage involves implementing the communication strategy. The new corporate design and corporate language specifications become part of the brand identity. They are found in the photoshoots and modular design of the website. When filling the website with the final assets, more than 100 sub-sites were created and updated on the German site alone. The Bloomreach Experience Manager (brXM) also prepares the infrastructure for the relaunch. port-neo chooses the systems based on GRENKE's requirements and daily business needs. For example, all content is collected in one location by BrandMaster. port-neo has adapted the tool so that each country has access to its own content as well as an international library.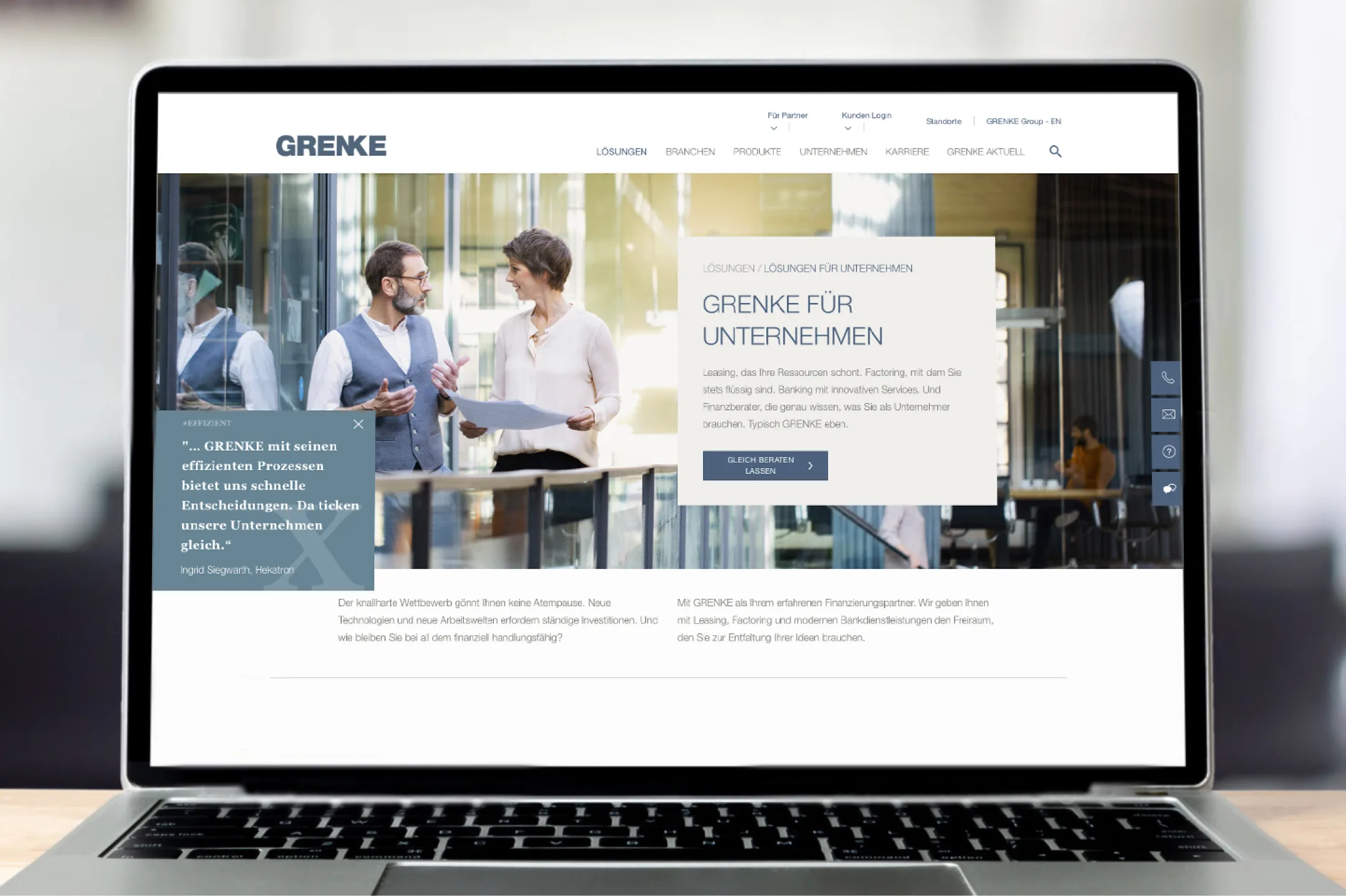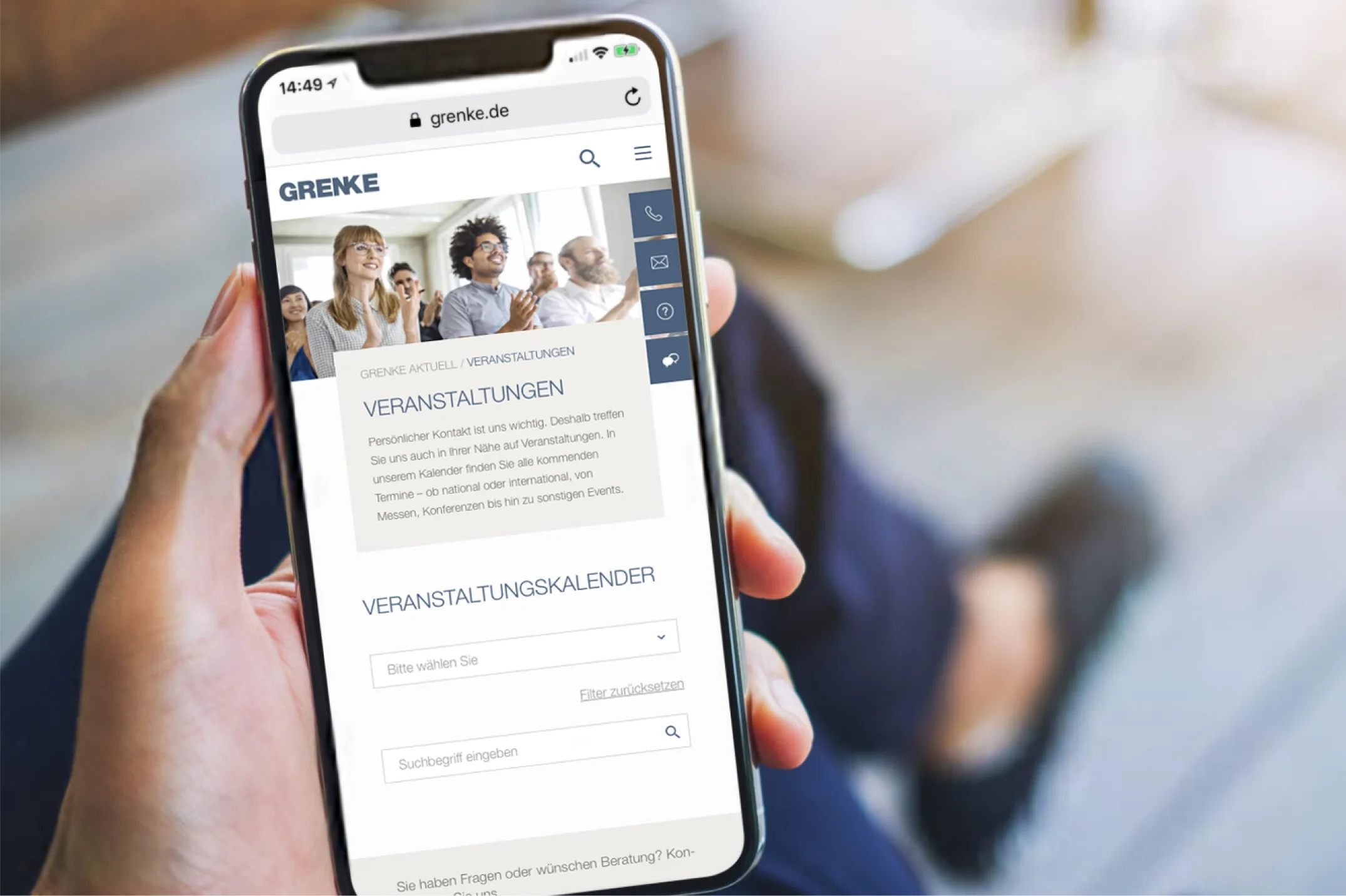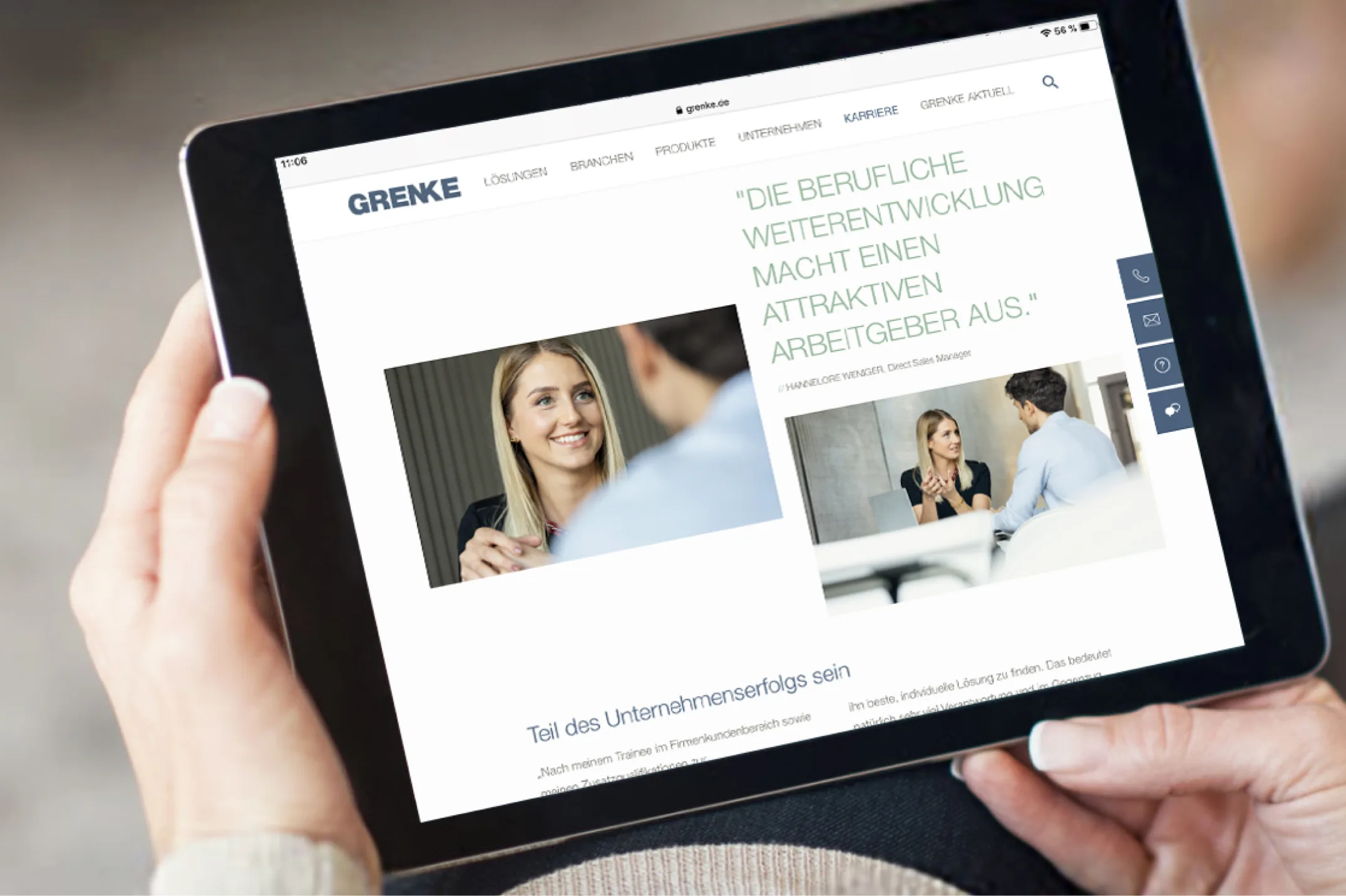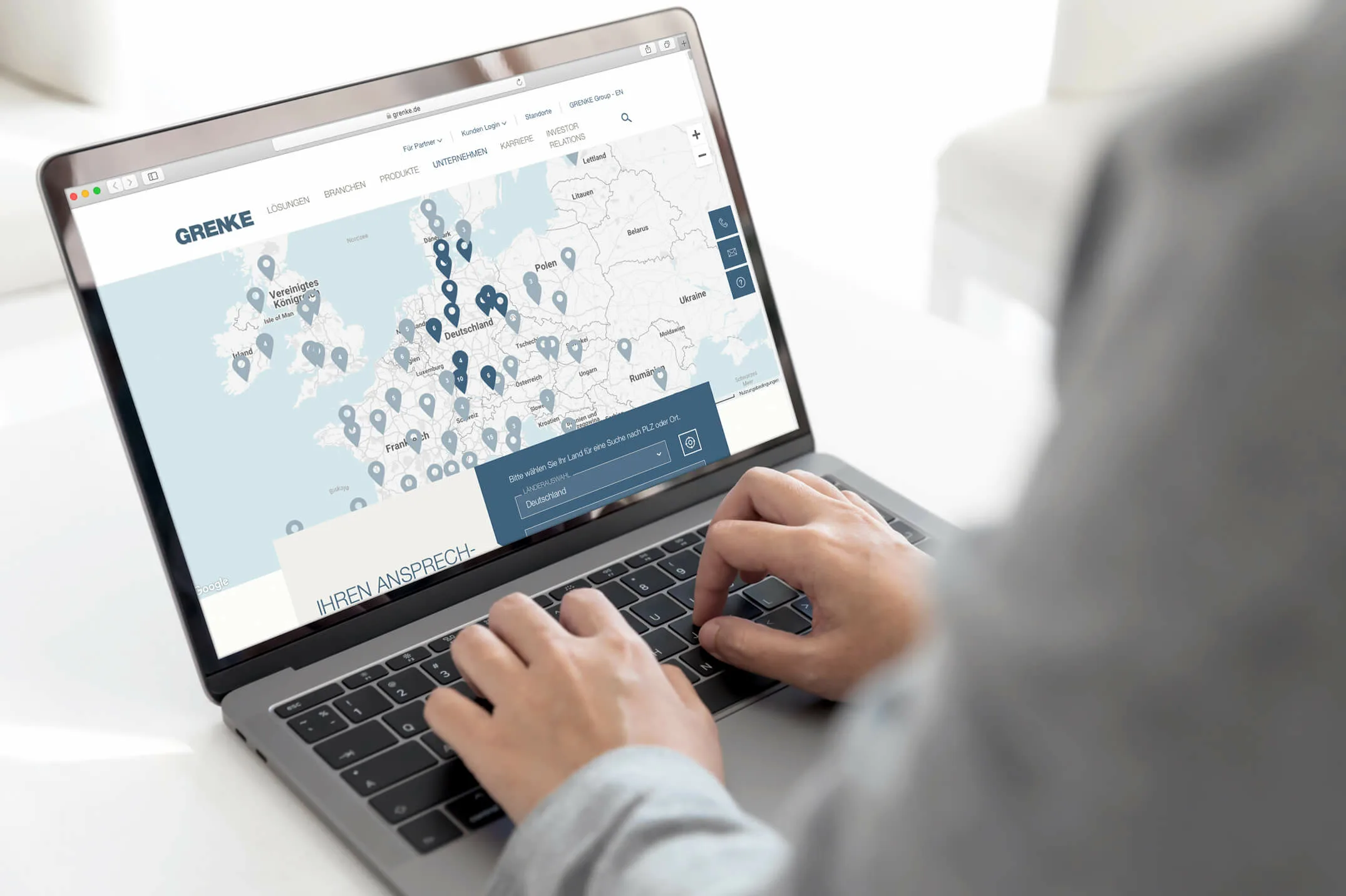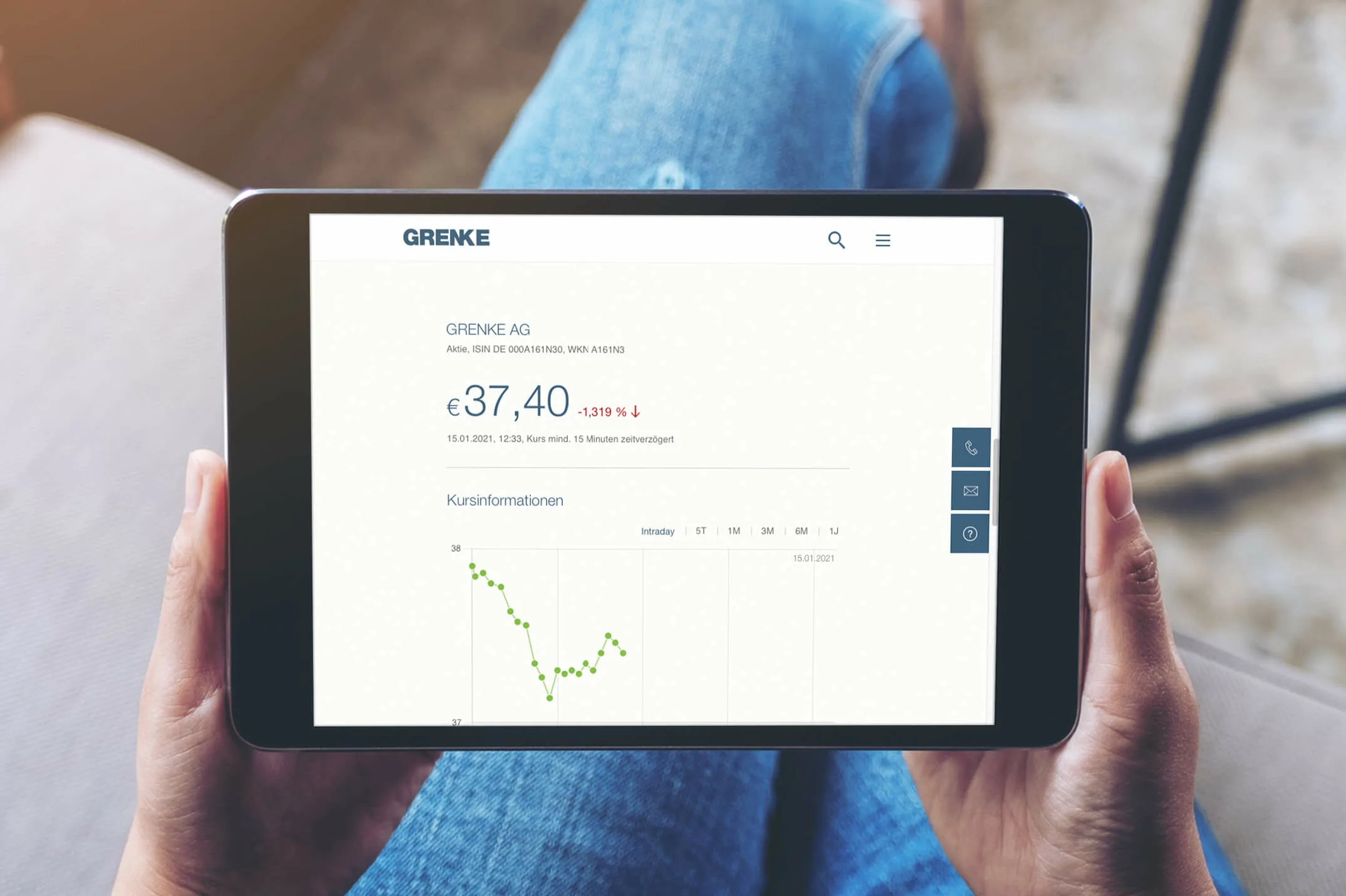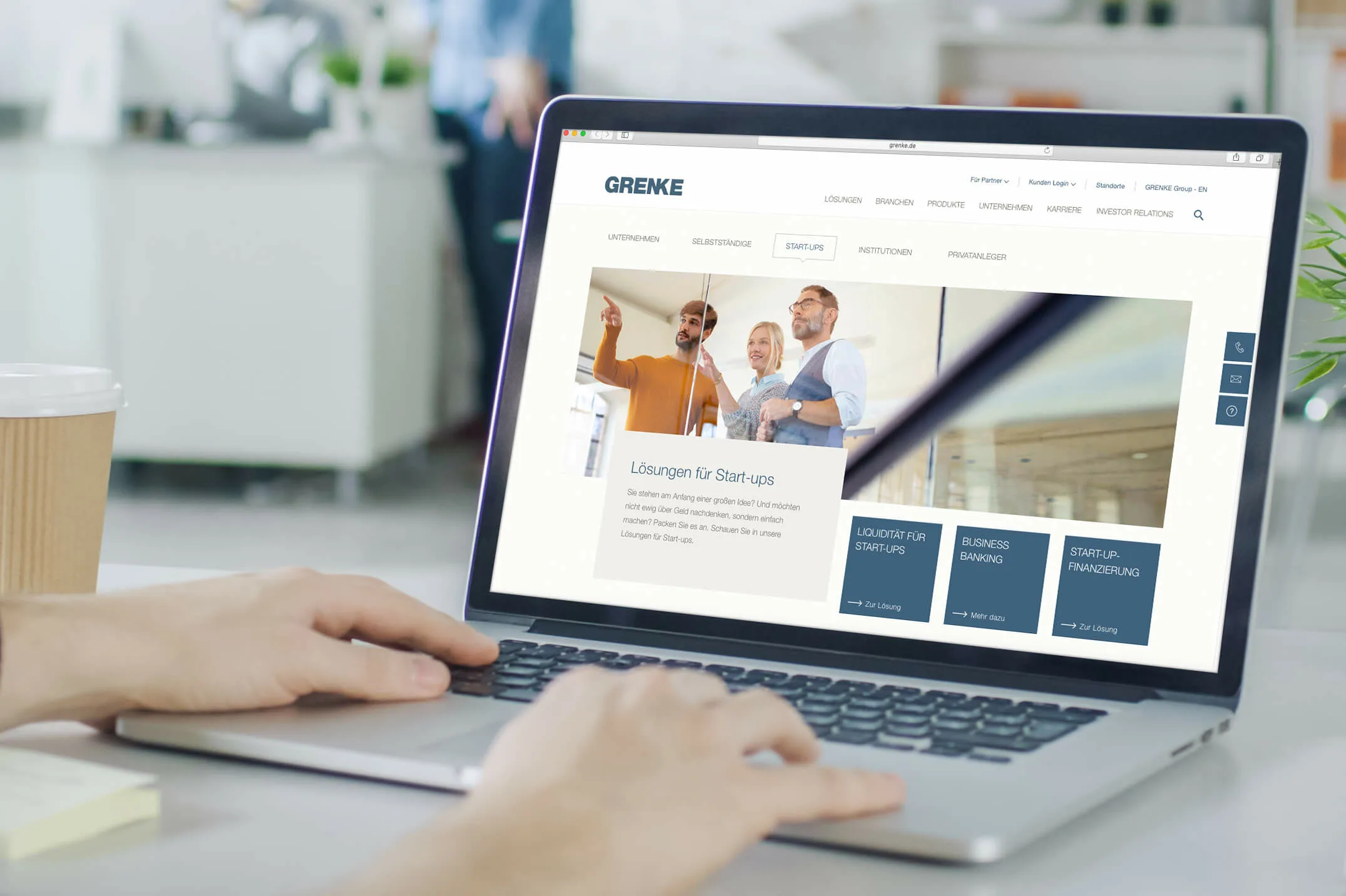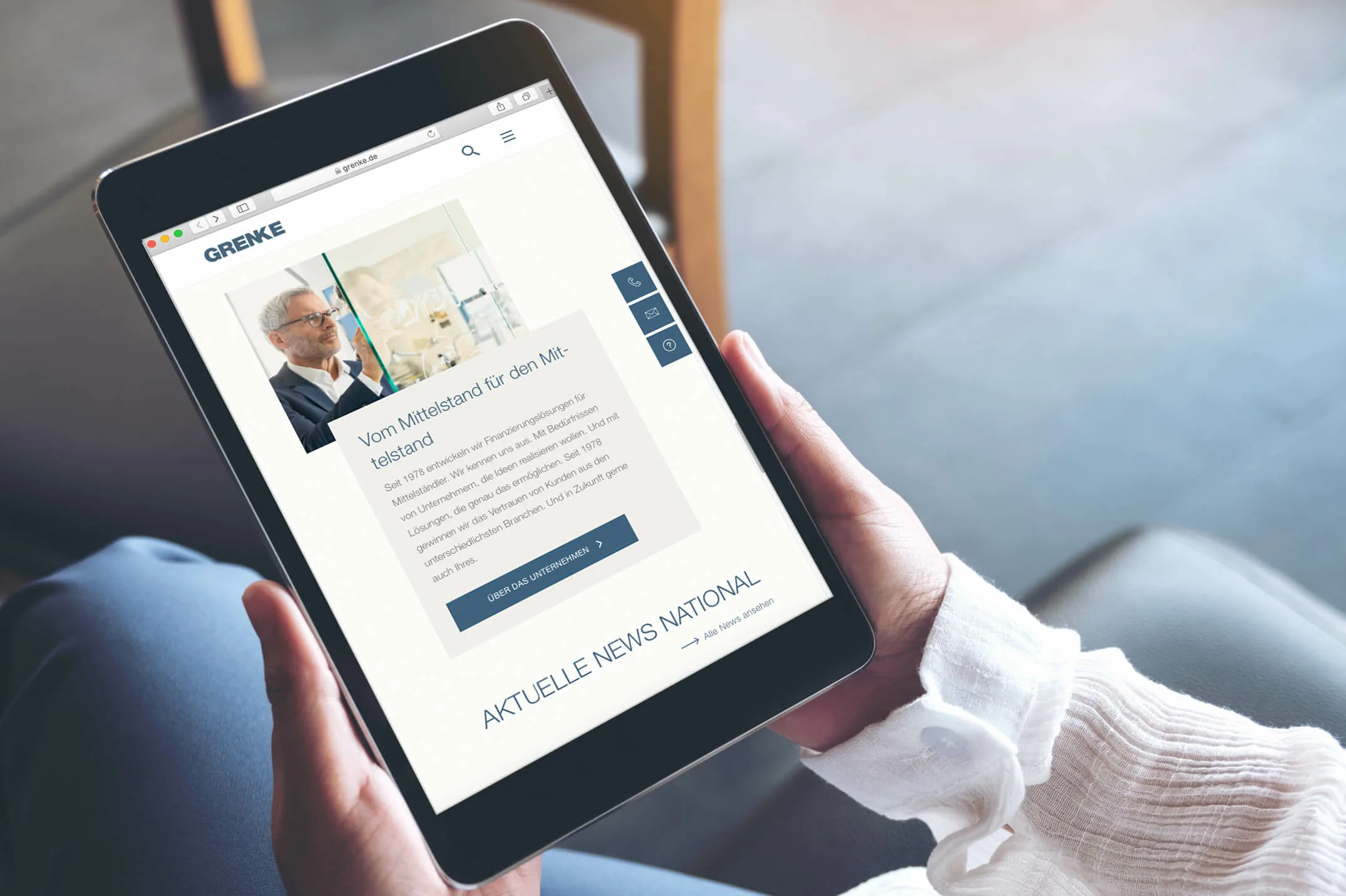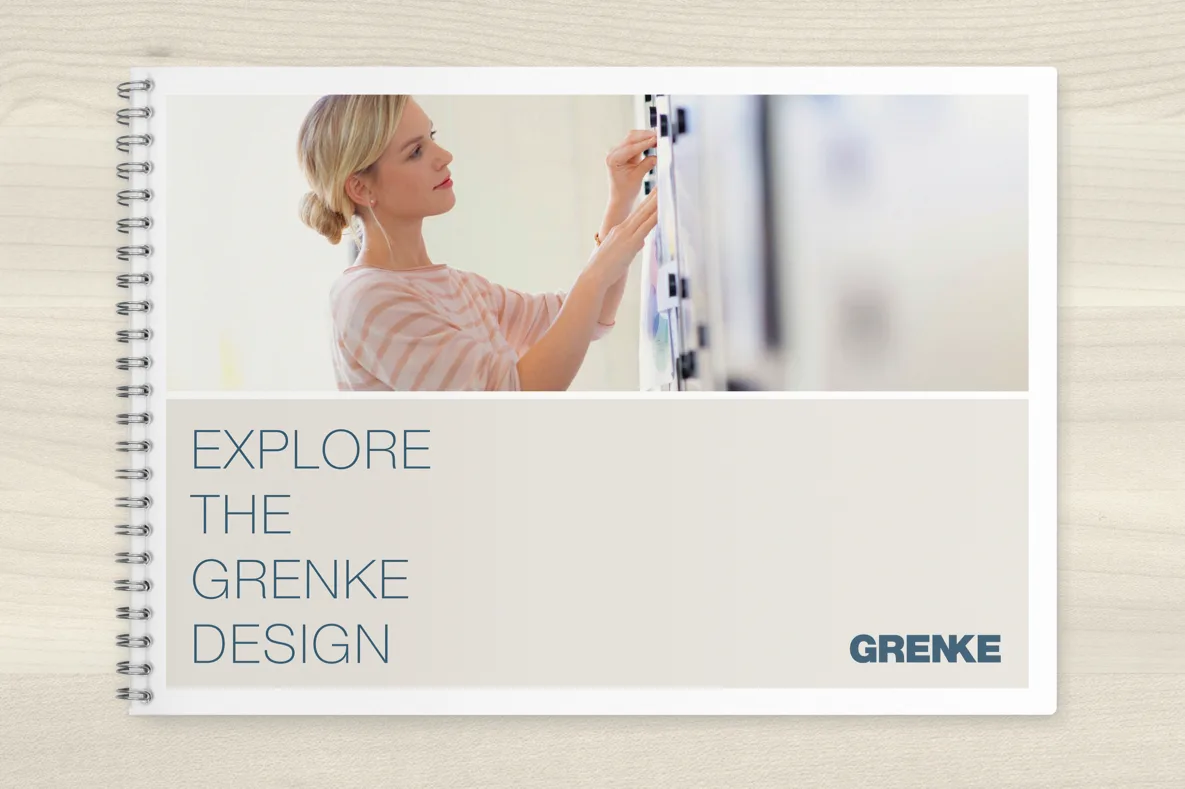 Motivational, authentic and focusing on the end customer – the new look from GRENKE.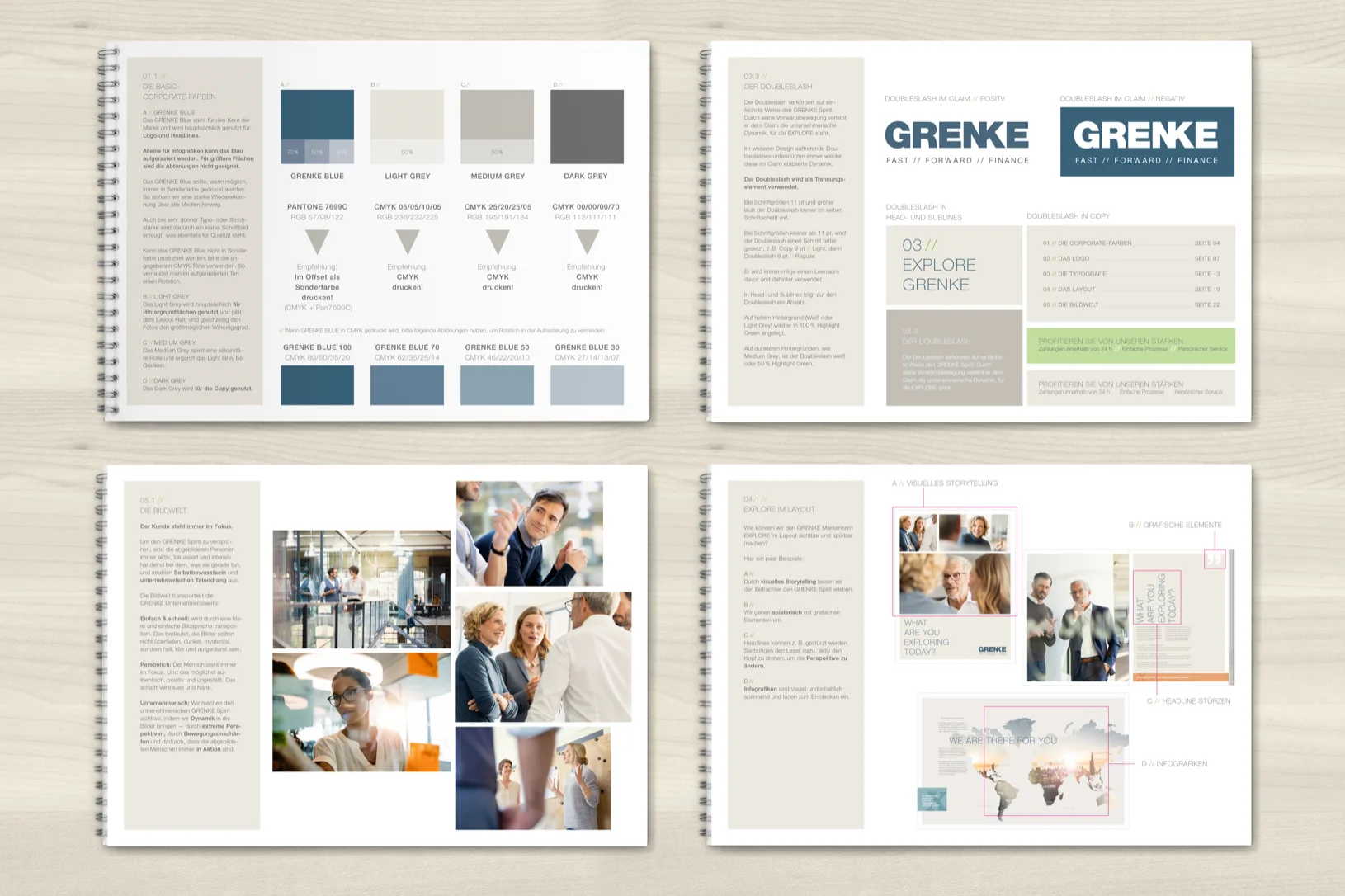 We describe all graphic specifications in a style guide for future projects.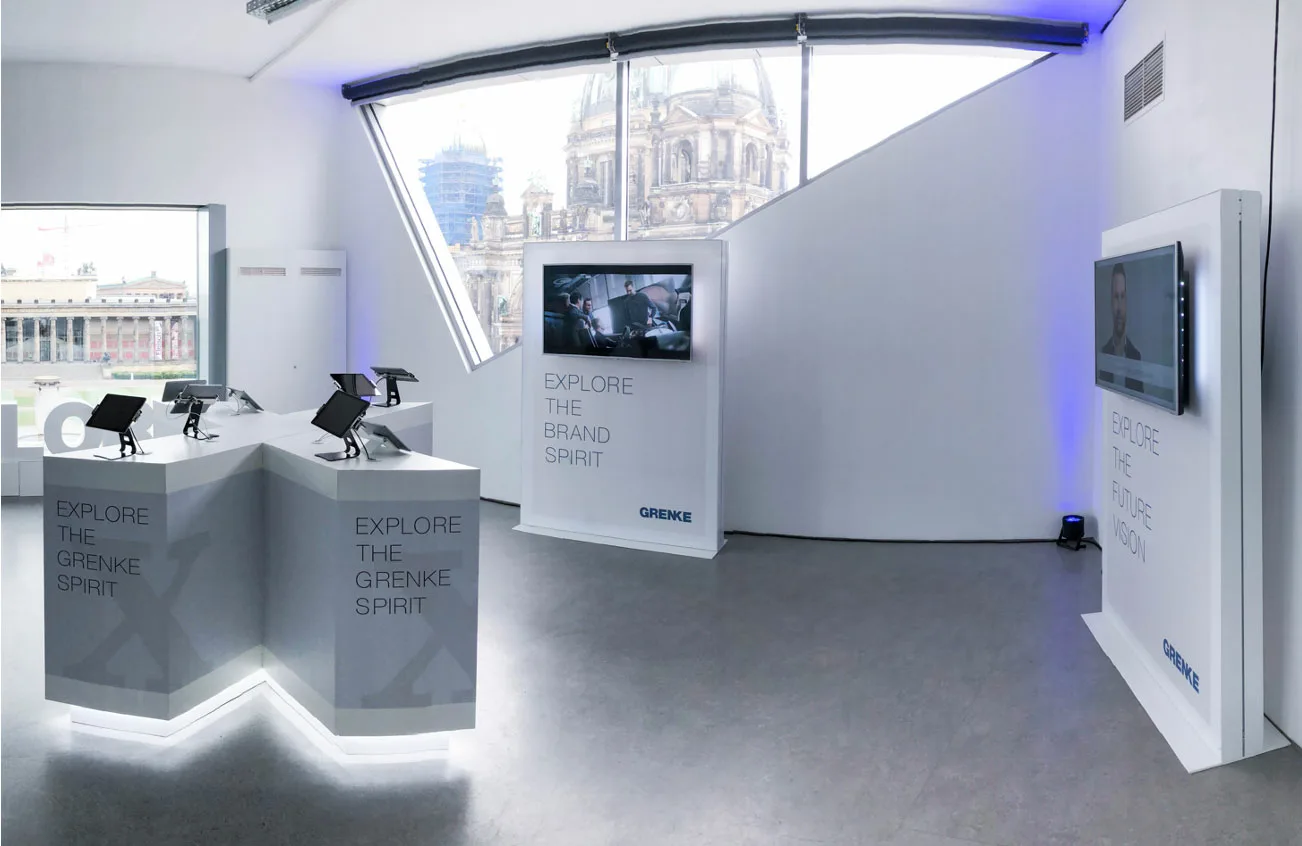 GRENKE annual conference: the new brand on centre stage.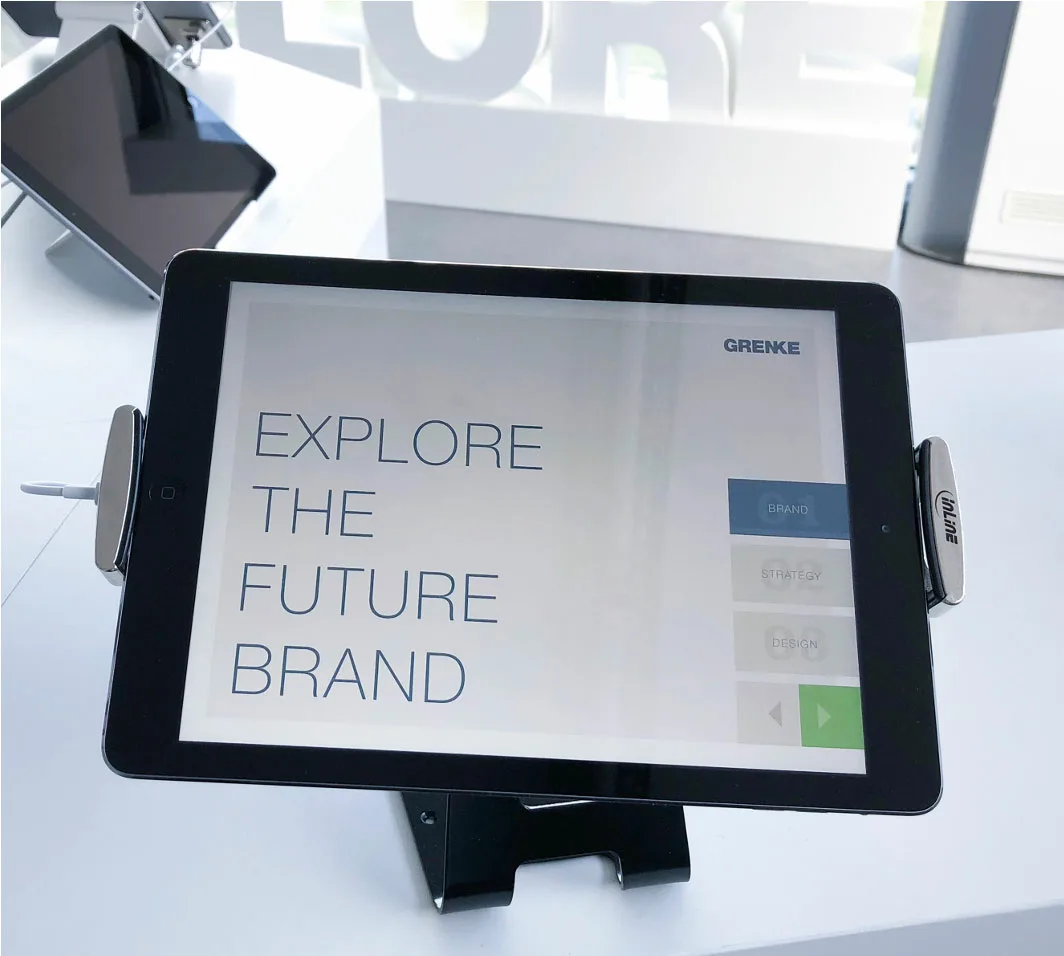 Discover the brand in a fun way using the app.
From rollout to long-term partnership
An employer branding campaign was produced in addition to the website relaunch. Under the hashtag #letsgrowtogether, GRENKE presents the entrepreneurial spirit of different company departments. The financial services provider authentically and honestly motivates potential employees to apply.
From Baden-Baden out into the wider world: the content is adapted based on country-specific requirements and prepared for rollout in 33 countries. The brand is publicised in the form of campaigns (internal and external) and placed among local target groups. Individual country requirements are also considered in the Bloomreach Experience Manager. Based on analysis results provided from data and dashboards, we work together with the GRENKE team to optimise content and check conversions. In doing so, the company continues its own success story.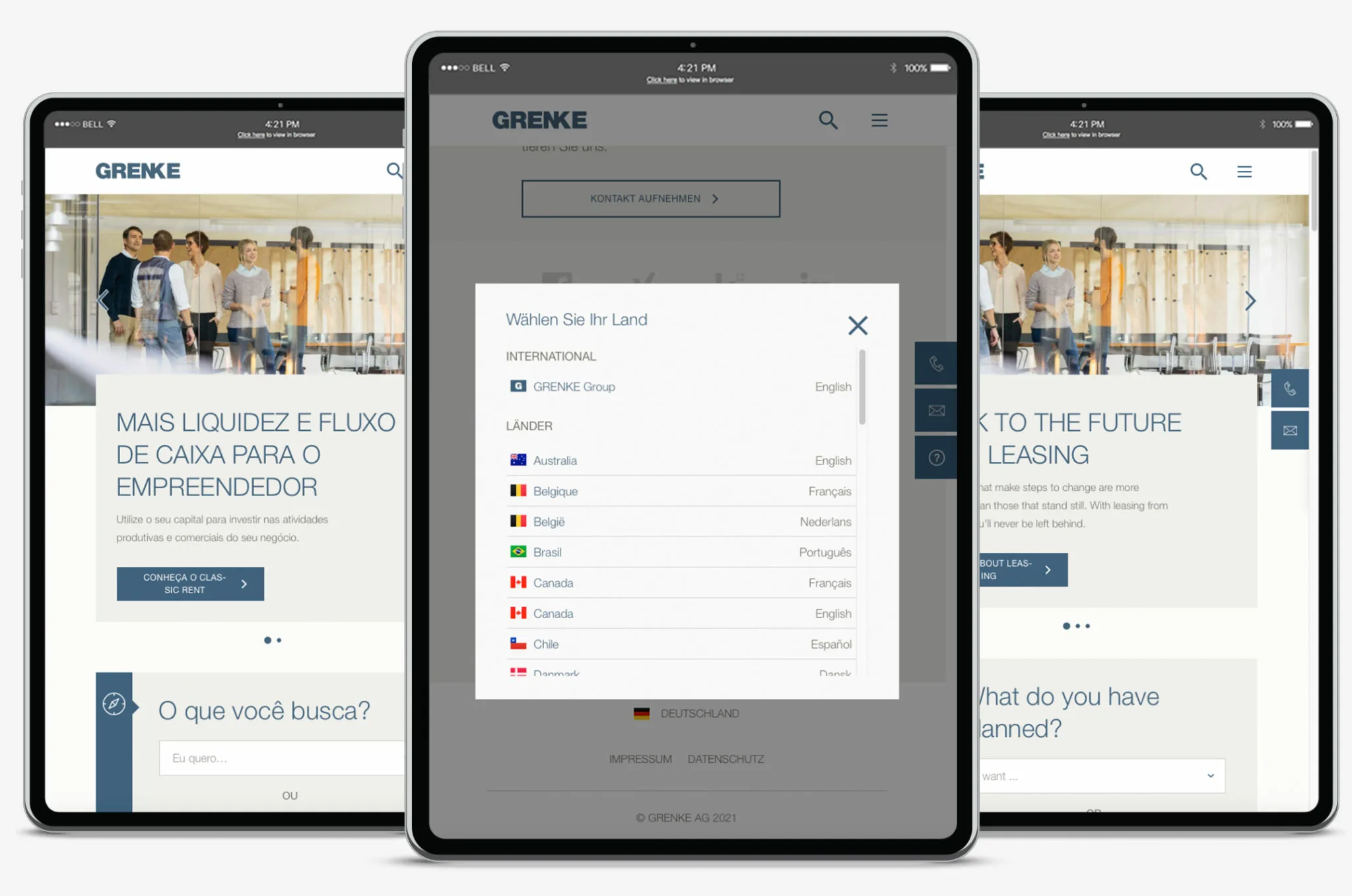 Our joint road towards the goal is defined by analysing the gap between the current and target situation.
Employer Branding Campaign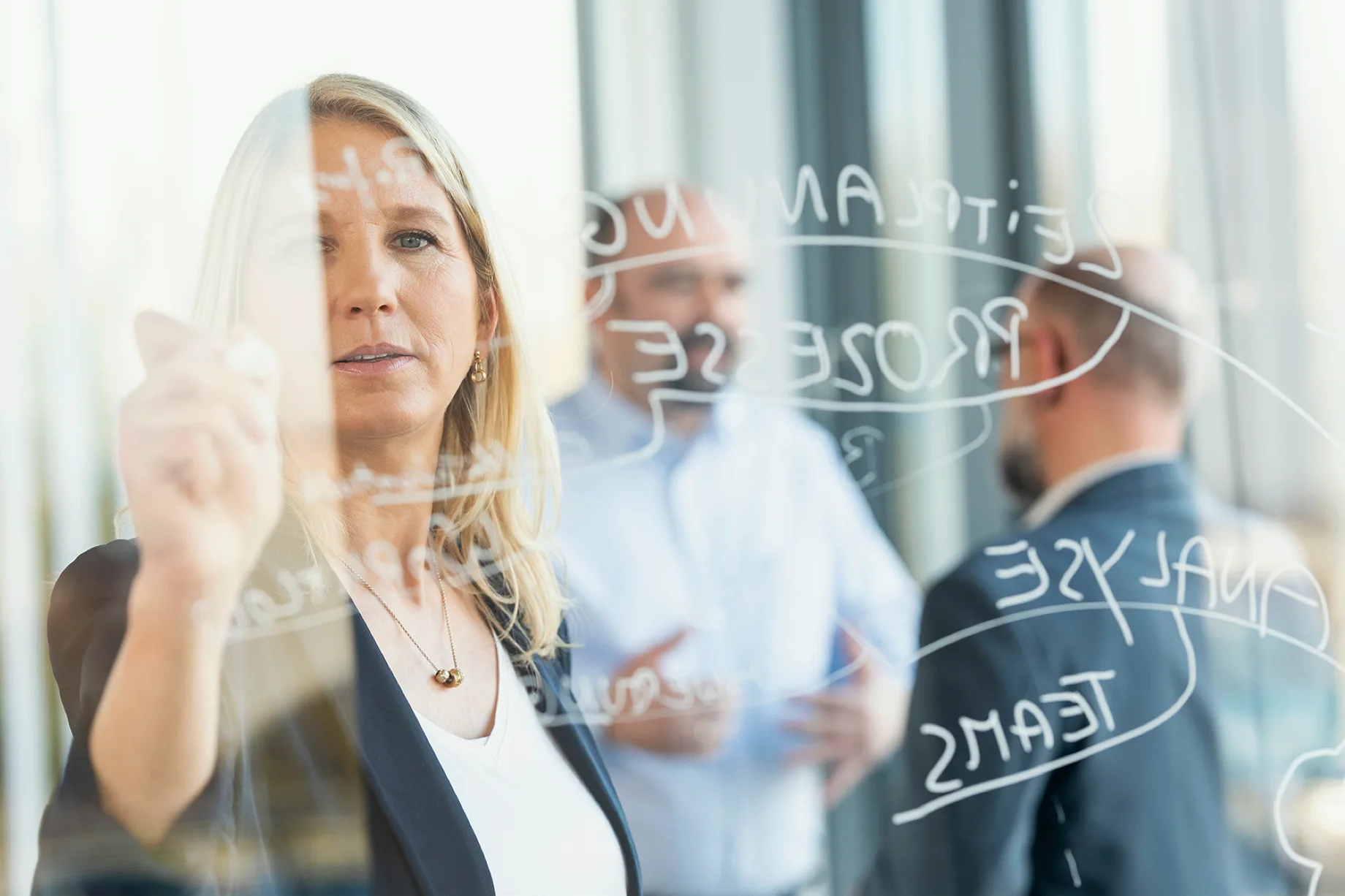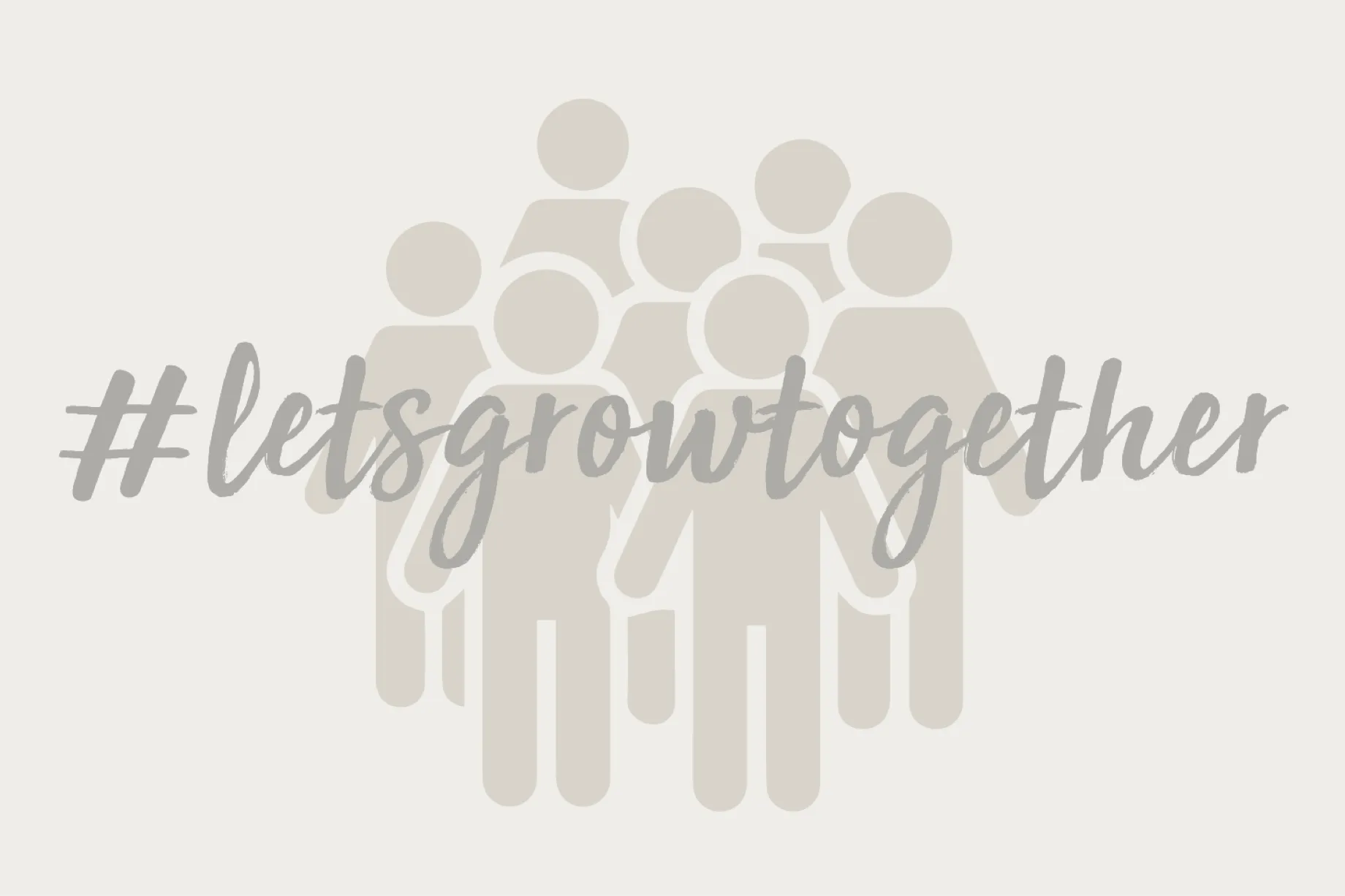 Employer Branding Campaign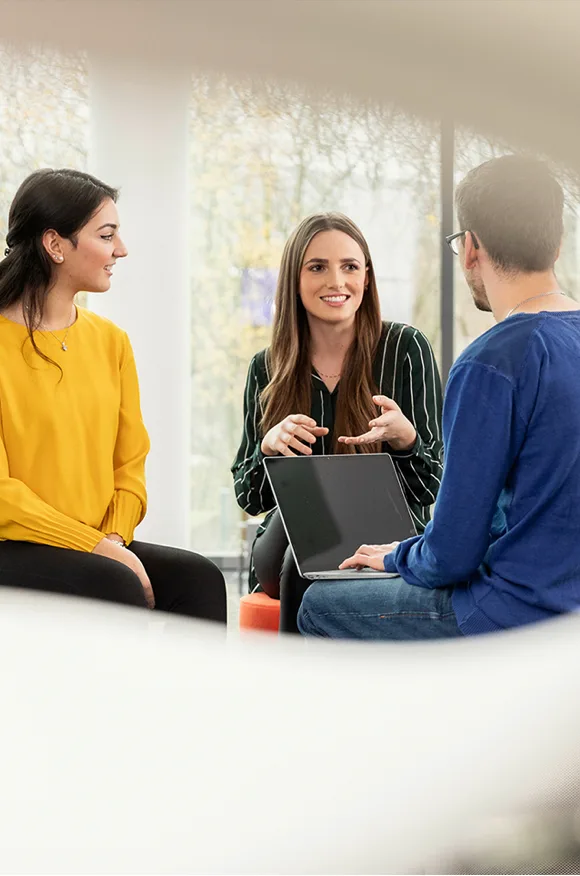 Employer Branding Campaign
Should we discuss next steps together?
When bathroom dreams meet UX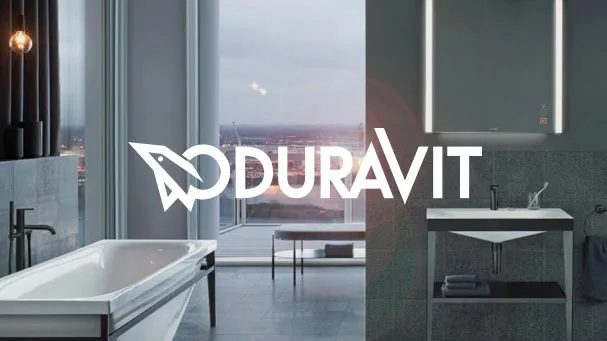 Mit bedürfnis­ orientierter Kommunikation zur Partner-Position